Kunstler Group
international workshops, exhibitions & exchanges
SOUVENIR - mixed media exhibition - 2008
To celebrate 50 years of
Twin Town Partnership - Essingen, Vienne and Neath Port Talbot
- more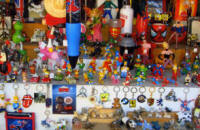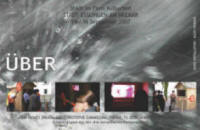 UBER -
video installation - September 2007

Stadt im Flus Kulturfest, Esslingen -
more
Rosy Albrecht (Esslingen am Neckar/Germany) Christophe Carmellino (Vienne/France) and John Howes (Neath Port Talbot/Wales) have worked together on a number projects over the years. They originally met in 1999 at a workshop in Schiedam/Netherlands where they worked together with a number of other artists associated with Twin Town Partnerships from Udine/Italy and Velenje/Slovenia.
The Group meets up from time to time to explore new ways of working together. In 2000, Rosy Albrecht, John Howes and Christophe Carmellino spent time at a ceramic workshop near the historic Roman town of Vienne, and in 2002 at Esslingen,
Virtual Communication,
a project exploring new media.
In 2015, they created
Horizont Blau - Feld Grau,
an installation in response to the First World War as part of the
www.52x.esslingen.de
project.- more