TERRA INCOGNITA - Marks to the Invisible
- Back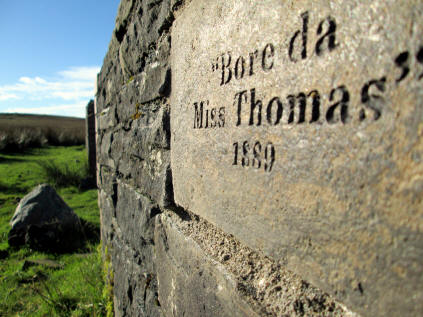 The first school mistress of Gwrhyd mixed infants school, Matilda Thomas, from Alltwen, Pontardawe commenced duties on 13 January 1889. She found 'the children in a very backward condition (and) therefore decided to teach them the elementary subjects only for a time'.
The school was closed in 1906 and became a hospital in 1928 to treat smallpox sufferers, which then closed at the time of the Second World War.
In 1973, I moved to a smallholding on the Gwrhyd mountain. At that time, the schoolhouse was a partially roofed derelict shell without windows or doors and acted as a shelter for the grazing sheep and cattle.
Inscription engraved in the Blue Pennant Sandstone of the ruined perimeter wall of the Gwrhyd mixed infants school, Gwrhyd mountain, Swansea Valley.


School House in 1906 and site in 2014