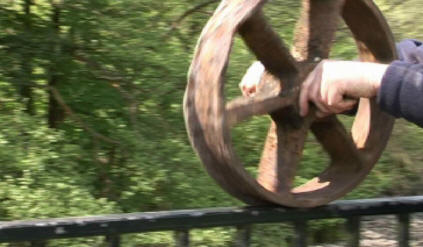 In 2010 the Swansea Canal Society commissioned me to create a seating sculpture to celebrate the industrial heritage of Pontardawe. Over the years the Society has collected various artefacts, old tools and bits of machinery and I was asked to incorporate this material into the sculpture.
One of the items was a cast-iron railway wagon wheel from the Bryn Tinplate works in Ynysmeudwy.
The video shows me as a ghostly figure crossing and re-crossing a bridge while pushing the wheel. The bridge, which is now a footbridge and cycleway over the river Tawe, was once the rail bridge that took materials and tinplate to and from the Glanrhyd Tinplate works - the ruins of which can still be seen in the woods of the Glantawe Riverside Park close to the bridge.